Stem Cell Treatments in North Texas
Stem cell therapy is one of the fastest growing – and most effective – treatments for chronic pain. Dr. Sumit Katyal and his team offer stem cell therapy for restoring joints and damaged tissue back to their old form! Stem cell injections and other advanced treatments options offer a natural – and painkiller/surgery free – treatment option that can start restoring function in weeks instead of months or years!
Platelet-Rich Plasma (PRP) Injections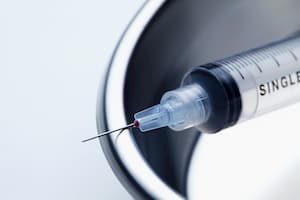 PRP injections use your own blood to heal and repair damaged tissue. It can speed up wound healing and repair damaged muscle, tendons and ligaments.
The Platelet-rich plasma that is injected into your skin has high levels of platelets that promote growth at a localized level. The procedure is quick and can treat minor cosmetic problems as well as more serious chronic conditions. Risks and complications are rare – which makes this procedure an attractive choice for high risk patients.
Therapy Advantages
Stem cell treatments offer many advantages over traditional pain management treatments. Dr. Katyal recommends stem cell therapy for patients that experience:
Chronic pain from joint or tissue damage
Difficult to heal broken bones
Tendinitis or Osteoarthritis
Spine and vertebrae conditions
Stem Cells for Knee Pain
Knee injuries can create lifelong movement and pain problems. Premier Pain offers stem cell injections and treatments done with a local anesthetic and healthy stem cells taken from your body. The procedure takes a few hours and you are able to walk out with only some numbness for the next few days. Cutting edge stem cell treatments are one of the most effective nonsurgical options to get you back on your feet!
Stem Cells Therapy for Joint Pain
Joint pain can reduce mobility and make even the most basic tasks a painful experience. At Premier Pain we treat joint pain in the hands, knees and toes with state of the art stem cell therapy – right here in our DFW office! Regenerative medicine for uses healthy human cells to rebuild and restore body function. This treatment is popular due to its short turn around time and a popular alternative to surgery!
Am I a Candidate?
Not sure if stem cell therapy is right for you? Criteria is not set in stone – every patient and treatment is different! Some of the criteria we review before recommending stem cell treatment are:
Injuries unhealed after physical therapy
Pain from injuries that make day to day life painful and limit mobility
Difficult to treat conditions where surgical options have not been effective
When surgery is not right for you
Want to find out more about our regenerative medicine treatments? Contact Dr. Katyal at Premier Pain to schedule an appointment!